Being a coastal city, a beach is never not far. Nearly all the ones mentioned below are within an easy walking distance from the city center.
Playa Malagueta
This large man made beach is only a very short walk from the city center and is popular with local Spanish families. There are ample bars and restaurants to choose from and children's play ground and shops. The beach is 1,2km in length and about 45m in width.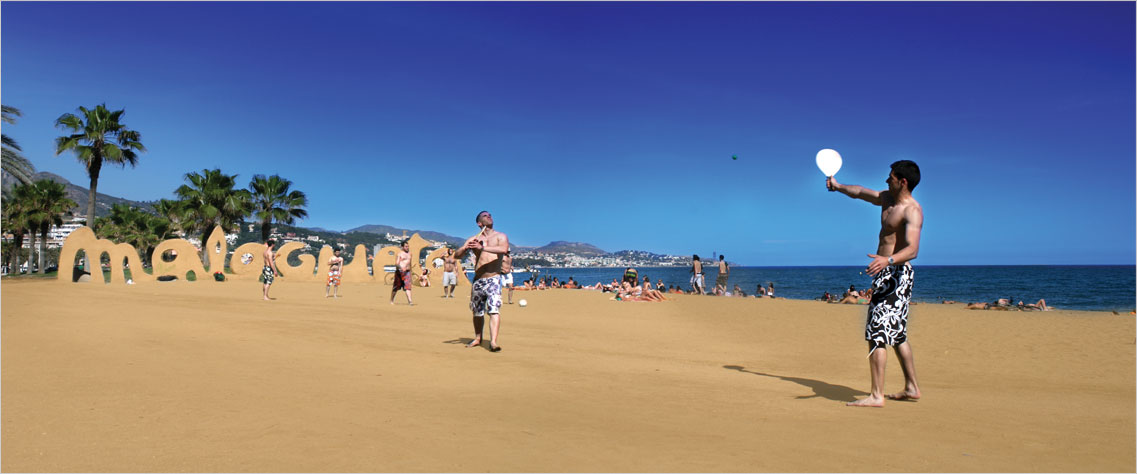 Playa de la Caleta
One of Málaga's most popular city beaches, La Playa de la Caleta sits between Playa de la Malagueta and Baños del Carmen, on the Pablo Picasso promenade. A large beach, it is about 1km long and 25m wide. A popular spot with local Malagueños. Beach volleyball, cycling, running and working out on the mini outdoor gyms that are along the Paseo Marítimo.
Baños del Carmen
Baños del Carmen was home to Málaga's first spa. The Balneario Nuestra Señora del Carmen was opened to the public on the 16th of July 1918, marking its place in Spanish history as being the first public spa to allow mixed bathing – an almost revolutionary concept at the time.
The much loved Málaga landmark is a great place to wander around and have a bite to eat, have a drink and watch the sunset. The smallish sandy cove is 550m in length and 15m in width.
Playa del El Palo
El Palo was once known as Pedregalejo's fishing neighbour. The stretch of beach that makes up El Palo is popular with locals and foreign language students.
The Paseo Marítimo is a hub of activity, with bars, restaurants and chiringuitos. The beach is 1,2km in length and 25m in width.
Playa El Dedo
Going further east from El Palo the next beach is known as El Dedo (the finger). It extends up to the marina at El Candado. There are ample bars, chiringuitos and restaurants along the paseo. There is one in particular, that should be high on any visitor's wishlist, El Tintero, which has become an institution over the years. Plates of fish and salads are shouted out by waiters, you just point and choose the ones you want. People are charged by the plate at the end. The beach itself is 550m in length and around 25m wide.
Playa El Candado
El Candado is a small exclusive beach in Málaga that is linked onto the Club Náutico El Candado and the El Candado marina. Only 200m in length and 30m in width.
The restaurant Candado beach has terraces and tables backing onto the beach and serves gourmet traditional dishes. The food is fantastic, although can be a little pricey.
Peñon del Cuervo
The Peñon (the rock) sticks out into the sea and is clearly visible from numerous spots in Málaga. A popular beach with the younger crowds. It sets the scene for numerous summer beach parties and barbecues, being far enough away to not cause problems for the neighbours. There is a large picnic /Bbq area, parking and not much else. There are no restaurants or facilities. The beach is 450m in length and approximately 25m in width.